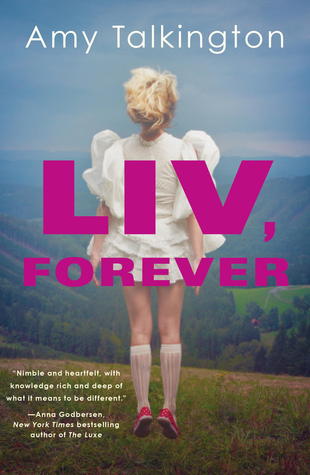 Liv, Forever
by Amy Talkington
Pages: 280
Published March 11th 2014 by Soho Teen
Author Website
NOTES: I was given this novel for a honest review by NetGalley
Summary: When Liv Bloom lands an art scholarship at Wickham Hall, it's her ticket out of the foster system. Liv isn't sure what to make of the school's weird traditions and rituals, but she couldn't be happier. For the first time ever, she has her own studio, her own supply of paints. Everything she could want.

Then she meets Malcolm Astor, a legacy student, a fellow artist, and the one person who's ever been able to melt her defenses. Liv's only friend at Wickham, fellow scholarship kid Gabe Nichols, warns her not to get involved, but life is finally going Liv's way, and all she wants to do is enjoy the ride.

But Liv's bliss is doomed. Weeks after arriving, she is viciously murdered and, in death, she discovers that she's the latest victim of a dark conspiracy that has claimed many lives. Cursed with the ability to see the many ghosts on Wickham's campus, Gabe is now Liv's only link to the world of the living. To Malcolm.

Together, Liv, Gabe, and Malcolm fight to expose the terrible truth that haunts the halls of Wickham. But Liv must fight alone to come to grips with the ultimate star-crossed love.
MY REVIEW
Liv, Forever is a story about Liv Bloom who makes it into an elite boarding school on the east coast. The boarding school is rich with history and legends. Liv meets Malcom and on their first day they that they met they shared a special connection. However, Liv also starts a friendship with Gabe. One night Liv and Malcom are hanging out and that night something terrible happens. Liv dies. During the book you find out what exactly happened to Liv and how she connects with the past of Wickham Hall.
I have a lot of feelings for Liv Forever. I originally was going to toss this book aside because I couldn't get into it like I had hoped. HOWEVER, I found myself sticking to it and I was glad that I did. I didn't want to put it down. I don't remember the exact point where the book grabbed me and sucked me in. I normally don't read paranormal romances, but I loved Liv, Forever and want to purchase it for my own book collection. I did like all the characters especially Gabe. I liked the friendship that he and Malcom had at the end of the book.
I did have some minor issues with it. Liv is originally from Vegas and it gets hot and humid. During the novel the author constantly said how she wasn't used to humidity. The other issue I had was that it was "instant love". It's a popular trend in these books, but it was something that will always bug me. I did like Liv and Malcom, but the instant part was a little difficult to get past at first. Once I stopped caring so much about that it was enjoyable. This would be a book I would recommend to other people.