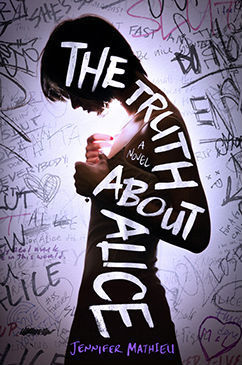 The Truth About Alice
Pages: 208
Published: June 3rd, 2014 by Roaring Books Press
Summary:

Everyone has a lot to say about Alice Franklin, and it's stopped mattering whether it's true. The rumors started at a party when Alice supposedly had sex with two guys in one night. When school starts everyone almost forgets about Alice until one of those guys, super-popular Brandon, dies in a car wreck that was allegedly all Alice's fault. Now the only friend she has is a boy who may be the only other person who knows the truth, but is too afraid to admit it. Told from the perspectives of popular girl Elaine, football star Josh, former outcast Kelsie, and shy genius Kurt, we see how everyone has a motive to bring – and keep – Alice down.






The Truth About Alice is a story about Alice Franklin. She goes from being one of the popular kids to one of the most talked about and gossiped about. Somethings happen at Elaine's party that get branded on Alice. Rumors start to fly, and when the death of Brandon happens even more lies about Alice get spread. Each chapter is a different point of view and how gossip originates. The chapters are told from the point of views of Kelsie, Alice's former best friend, Kurt who is a nerd and befriends Alice when no one else would, Josh who was Brandon's best friend and apart of the accident, and Elaine who is the most popular girl in Healy High.
I LOVE this book. Sometimes when I read books there are one or two characters that I find myself disliking but that wasn't the case with this book. I loved every single character and loved how each chapter told their point of view and how they started or dealt with the rumors surrounding Alice.
I finished this book quickly because I kept wanting to find out what happened. Would Alice ever find out who started the rumors about her. Sometimes when you leave the ending of the book hanging the way this book did you get frustrated a little bit because it's an awkward place to end, and you as a reader, want more. However, I found the ending of this book perfect. I am glad it ended the way it did.
This is a great contemporary novel for YA and goes with the category of Hate List and 13 Reasons Why. Those I also enjoyed. The Truth About Alice will go into my own book collection.